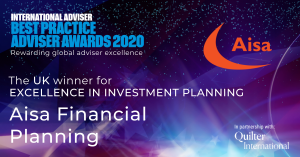 We are delighted to report that various Aisa Group entities, including the OpesFidelio network,  have been in amongst it with the winning of International Adviser Awards for 2020, after the results were published earlier this week.
International Adviser splits its awards amongst five geographical areas ( the UK, Continental Europe, Middle East, South Africa, and Far East / Asia ), and presents the same set of seven awards within each region. Aisa Group submitted entries for both the UK and Europe regions.
The OpesFidelio network picked up the winners medal for Excellence in Investment Planning (Europe). This is testament to the sterling work being done by senior Aisa adviser John Reid and his Aisa Investment Committee.
This win was further celebrated with our UK parent company Aisa Financial Planning picking up the very same award for the UK. Well done everybody concerned, and may the model portfolios continue to shine! OpesFidelio advisers can offer their clients access to the set of excellent model portfolios managed by the Aisa investments team, that have continued to perform outstandingly well, despite the market difficulties of 2020.
James Pearcy-Caldwell, CEO of the Aisa Group said, "2020 has been a tough year for our clients, wherever they live. Our only thoughts back in March and April were the safety of our staff and clients alongside the protection of their jobs, investments and pensions. To get the recognition through winning International Adviser's Excellence in Investment Planning is rewarding for our team and has already resulted in congratulations from our clients. We hope that this demonstrates our commitment to keeping on top of our game to provide the best client outcomes, whilst focusing on the needs of our staff at the same time."
But to add the icing to the cake, the Aisa-developed Money Trove system picked up the award for Excellence in Digital Innovation. This was won twice over, in both the UK and Europe regions. Many congratulations to chief developer Rob Edsell and his development team on this achievement, and I am sure we will see Trove go on from strength to strength in 2021.
Furthermore, OpesFidelio members Logic Financial, who are based in Javea, Spain, also picked up the much coveted Excellence in Client Service award, a fantastic result on their part, making it an excellent all-round effort for the Aisa Group of companies in this year's awards.