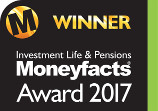 To add further to previous illustrious awards nominations and wins, Aisa Professional has been nominated in this year's Moneyfacts 2017 Awards in the category of Investment Adviser of the Year. This is further testament to the superb work carried out by the Aisa Investment Team that has led to nominations in previous years also.
The awards ceremony will be held at the Royal Lancaster Hotel in Hyde Park London, on Thursday 21st September 2017.
Aisa Professional is a part of the Aisa Group of companies that also includes Aisa International and the OpesFidelio network.
To see the full list of nominees, click on this link;
http://downloads.moneyfacts.co.uk/moneyfactsgroup/pdfs/awards/InvestmentMoneyfacts/2017/ILP17_Shortlists_Booking_Info.pdf