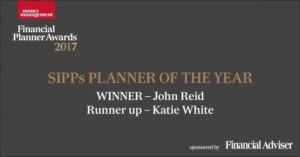 One of the Aisa Group's senior advisers in the UK, John Reid, has just won the most prestigious award of SIPP Planner of the Year 2017 at the recent Financial Planner of the Year Awards.
The awards, sponsored by Money Management, have long been recognised as the very best in the UK financial services industry and frequently perceived as the "Oscars" of the UK's advice profession.
John's achievement is particularly notable as these awards are keenly contested, with all entrants being subjected to a rigorous judging process that includes being interviewed to discuss a complex hypothetical case study.
Members of the OpesFidelio network who wish to tap in to the Aisa Group's extensive UK pensions expertise can be assured that any UK pensions business they may need assistance with will be dealt with by the very best in the business. The Aisa Group has no fewer than six pensions-qualified advisers in the UK, including John, every one of whom also have chartered financial planner status.
Many congratulations to John for this fine achievement.