There was an article posted in International Investment this week that highlighted the new spreadsheet 'toolkit' we have developed internally, as a result of research we have been doing into the comparison of costs and client outcomes when it comes to advising a client to choose either a portfolio bond or a platform solution.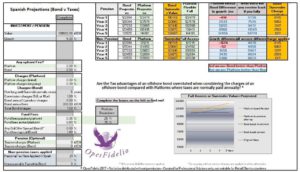 Perhaps contrary to the standard industry advice, the truism that "tax-efficient" bonds must necessarily be the answer to a clients requirements is surprisingly often not the case, as borne out by our recent study.
The spreadsheet (known colloquially as OFBvPS) is currently being distributed to OpesFidelio network members to facilitate our advisers to provide better advice and to ensure better client outcomes, when it comes to considering whether a bond or a platform solution might be more cost-effective for a particular client.
To read the full article, click on this hyper-link:  International Investment – OpesFidelio Spreadsheet