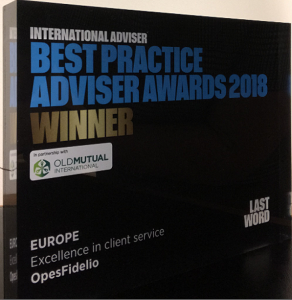 The OpesFidelio network has picked up the award for 'Excellence in Client Service' at the International Adviser Best Practice Awards for 2018, held at the Courthouse Hotel in Shoreditch, London last Thursday.
This is the 3rd year running that the Aisa Group, of which OpesFidelio is an integral part, have won this particular award, and demonstrates the fundamental importance of this aspect of our operation. Aisa Group CEO James Pearcy-Caldwell and the OpesFidelio Business Development Manager Shane Wood were both there to accept the award on behalf of the company.
This result is just reward for all of the advisers in the network, as well as all of the administrative staff who support them, so congratulations to the whole team.
Also, at the same awards ceremony, OpesFidelio network member Brian Dunhill picked up the award for 'Excellence in Investment Planning' on behalf of his company Dunhill Financial. Well done also to Brian and his team!